10 places for great food on Caye Caulker
Actually make it 11! There's so much good food!
Caye Caulker, an island off the coast of Belize, is known for its relaxed vacation vibe–the motto is "Go Slow". There are lots of great places to eat, and it's affordable too! From the freshest seafood to jerk chicken, and Italian food, you'll find lots of a great, and cheap, eats. Just an hour by ferry from Belize City, Caye Caulker is a great place to spend your Belize vacation. If you prefer a faster arrival, you can book a puddle jumper from Belize City. However you get to Caye Caulker, you will find lots of great food! Here are 10 places to grab (sometimes cheap) eats on Caye Caulker plus a bonus stop.
TEN Great Eats on Caye Caulker (in no particular order)
Patti's fry jack cart – (Belizean owned)
Pati's food cart is located across from Barefoot Caye Caulker Hotel, and serves fry jack made to order, and also tacos and tortas. My favorite is the pibil fry jack, made with marinated slow roasted pork with achiote and spices, beans, cheese and a cabbage slaw. Grab one and head to the beach for a grab and go meal with a view!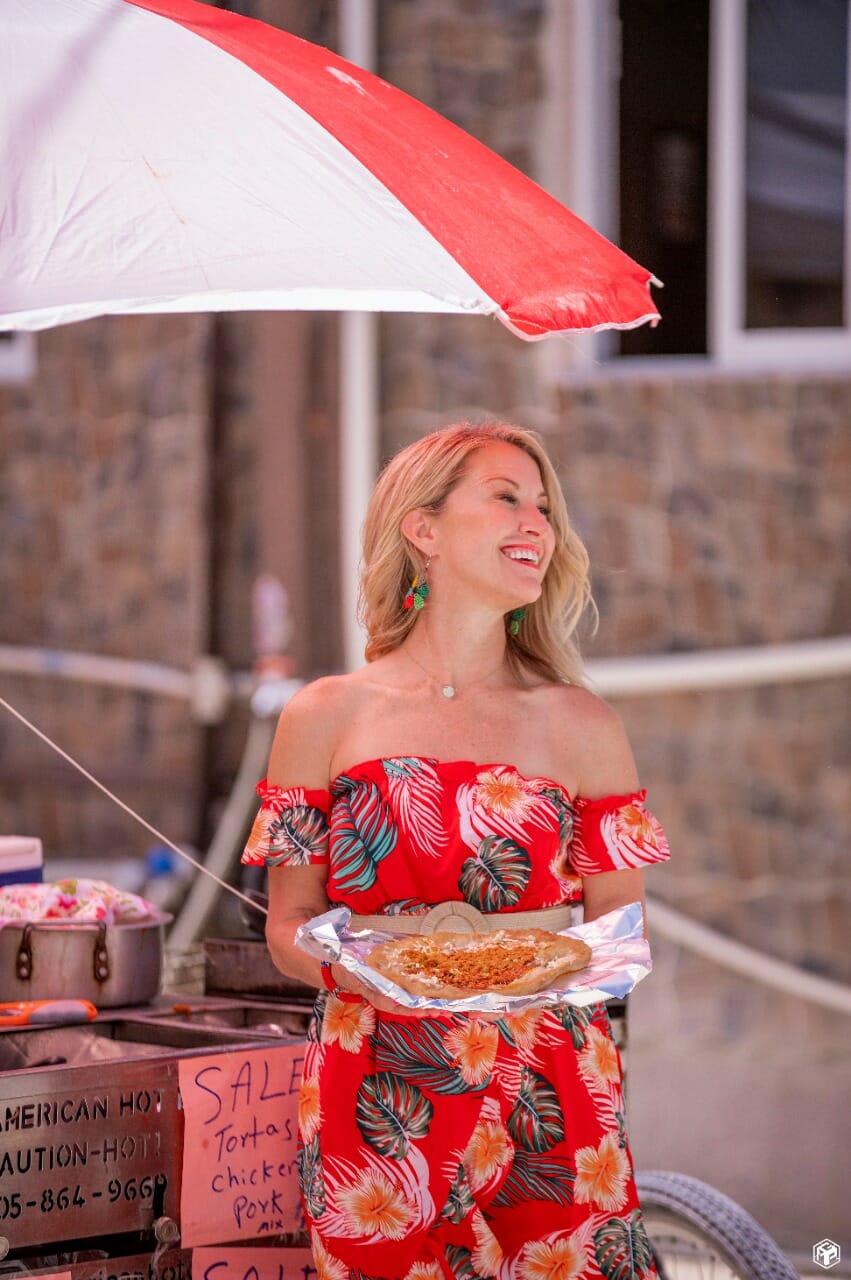 2.Kareem's– Belizean owned
Chef Kareem can be found along the main road near the split with several other vendors. He serves what's in season, slathered with jerk seasoning and grilled to order. You can't go wrong with red snapper or lobster when it's in season. Try it with roasted corn and rice and beans.
This popular spot for a morning brew or smoothie is along Front Street. The colorful cafe sits along the sea side and is open from 6:30 am, making it the perfect stop for your coffee, pastry and smoothie– they even have homemade donuts! Try the mango smoothie and iced latte just to get you started. Fast, friendly service!
4. Axios Sun Coffee– Belizean owned
This locally owned spot along Front Street is a great place for breakfast and serves up heart fry jack with stewed chicken, breakfast burritos and waffles. Great spot for a quick cup of coffee to go in the morning as well!
5. Maggie's Sunset Kitchen-Belizean owned
This spot is popular for traditional Belizean dishes! Go for lunch and order the stewed chicken, which often sells out. Or try the stew beef or baked chicken, you can't go wrong. Meals are served with a side of rice and beans and fried plantain.
6. Swing's
Swings is a popular hangout on the main road (Front Street), and features swings at the bar. The blended mojito was delicious and my kids enjoyed the wings and fries. The burger was decent. I had the whole fried snapper which is my go to anytime it's an option. It was delicious!
7. Sip n Dip
You can't beat eating great food, not just by the ocean, but IN the ocean. Sip n Dip has tables and swings in the water so you can be immersed in your beach experience while you eat and drink. If you prefer to be dry, there are tables and chairs under the roof as well. The mixed ceviche with shrimp and lobster was delicious and the chicken tacos we a favorite of my kids'.
8. Northside beach club (formerly known as Koko King)
This beach club on the north side of the Split is a great place to chill for the afternoon or evening. This beach club has a nice bar and a DJ, and throws parties on the weekends. It boasts a very young, hip vibe. You must purchase food or you will be required to pay to hang out. Though the burger was not a favorite, the blackened fish tacos were delicious. The pina colada was also very good. PRO TIP: is accessed by a free ferry from the gas station on the west side of the island. You can also take the $5 ferry called Split the Split, from, you guessed it, the Split.
9. Amor y Cafe
This very popular cafe is a great place to start your day – but be warned, there will be a wait. The BLT was my kids' favorite, with crispy bacon on thick slices of fresh bread, tomato lettuce and mayo. I love that they serve milk alternatives – my personal favorite way to start the day is the oat milk latte and a fruit and yogurt smoothie with protein added.
10. Amigo's Kitchen
Need something different? How about Chinese food? This casual place along Front Street offers a selection of Chinese takeout dishes and pizza, too. The chicken fried rice was delicious and I've heard the chow mein is as well. The general tso's chicken left a bit to be desired. I haven't tried the pizza though it seemed to be very popular. The price is right, too! Lots of locals go here for take out.
11. Cafe by the Sea
This cafe on Front Street offers a little of everything, from coffee and breakfasts, wraps and paninis, and is situated right along the sea. The grilled chicken wrap is delicious, in a tasty flour wrap, filled with chicken, beans, avocado and lettuce.