7 great spots to eat in Panama City
Foodies, listen up!
Panamanian cuisine has so many influences from the diverse history of the nation. Panama was once unified with Colombia, had Chinese laborers brought by the French to work on the railroads and canal, African slaves forced to work by the Spaniards, and of course the indigenous people.
Panama City is huge and there are lots of places I want to return to eat and cuisines I want to try. I was staying in Casco Viejo, which is great for walkability, so the meals I had were a bit focused in that area, but I managed to explore a few places outside of Casco Viejo too. Here are 7 spots for great food in Panama City, Panama that I would recommend for your next trip to Panama City!
Seven Great Eats in Panama city (in no particular order)
Casa Catedral – C. 5a Oeste, Panamá, Panama – This Venezuelan-owned restaurant is located inside a beautiful building in Casco Viejo, with exposed brick and cozy decor. It focuses on Mediterranean-Spanish fusion cuisine. The vibe and food are great! Inside the restaurant the owners personal collection of antique cars accent the dining area. Local art is available in the back for purchase. We tried the sangria, with smoked rosemary and the sautéed octopus with Manchego cheese mashed potatoes and a touch of smoked piquillo pepper sauce. So good!
2. Fonda Lo Que Hay – Edificio el Colegio, Calle Jose de Obaldia, Casco Viejo – This was my favorite dining experience in Panama City. This restaurant comes from renowned Chef José Olmedo Carles Rojas who started with a Chef's table restaurant (Donde José) now closed. Fonda refers to casual roadside eateries, and Lo Que Hay, meaning whatever is available. This restaurant is named one of the 50 best restaurants in Latin America. Chef Jose offers a range of cuisine reflecting the diversity of Panama and his modern take on the casual eateries. We sampled all of the appetizers. Try the eggplant bao, the fried rice cake with a smoky tomato sauce, the yucca with tuna tartar and the lettuce wraps with pickles and peanut sauce. The craft cocktails are delicious! *They required proof of vaccination to enter.
3. Tantalo – Calle 8 Este con, Av. B Casco Viejo – This hip rooftop restaurant is a must in Casco Viejo. The skyline view is unmatched and the food excellent. Try the passion fruit pisco, and the montadita de pibil, a fried thick tortilla with shredded pork and fresh cheese. The menu is diverse and delicious! This building is also a boutique hotel filled with funky art installations. Food prices range from $7-12 with some higher end options.
4. Cafe Unido – P.H. LE MARE, planta baja Panama City, C. 79 Este Casco Viejo – Sometimes you just need a good cup of coffee and a pastry. Unidos offers delicious panamanian coffee, homemade pastries and a selection of cafe dishes such as avocado toast, wraps and salads. Perfect for breakfast and lunch and if you need a place to work for a bit. They have the famous Geisha coffee and even have oat milk!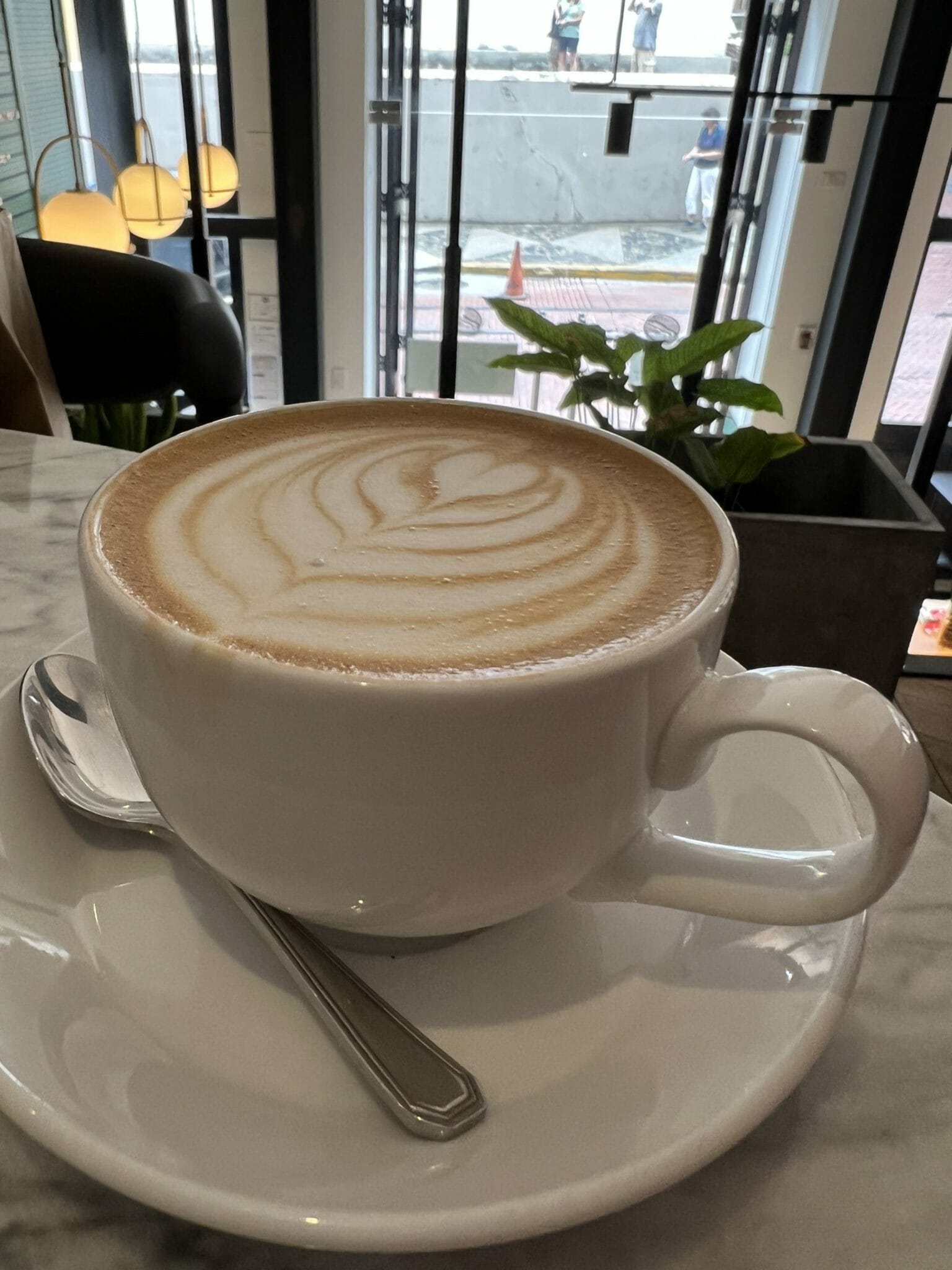 5. Maito – C. 50, Panamá, Panama – Another favorite, this fine dining restaurant has been on the 50 best restaurants in Latin America since 2016. The menu at Maito offers an array of Panamanian and global cuisines. The corn gnocchi was incredible, pillowy soft with a savory coconut milk sauce and fresh cheese. The desserts though! Try the strawberries with cream, dried strawberry leather, pickled strawberries and the most unctuous whipped cream. The donut filled with a mango and curry ice cream was also amazing. Maito excels at using local ingredients in a sophisticated way.
6. Pedro Mandinga – Calle Avenida A. Casco Antiguo, entre Plaza Herrera y Calle 8va – The first artisanal distillery in Panama! The rum is made from local cane sugar and the bar itself has an beautiful warm vibe, with wood bar, intimate seating and great cocktails. Not technically a restaurant but this bar has great snacks such as the sweet corn fritters with fresh cheese, and most importantly great artisan rum! Enjoy a rum flight – I loved the silver and the cacao liqueur, which uses the Silver Rum infused with cacao nibs, rapadura and vanilla. You can also tour their distillery in Panama City.
.
7. Mercado de Mariscos – Cinta Costera 2, Panamá, Panama – This is a must go to in Panama City and is in walking distance of Casco Viejo. The market is open from 5-5 daily and you can see all of the fresh seafood for sale. Just next to the market is a string of restaurants, all offering a variety of seafood dishes. We walked all along the outside to find the places where the locals go. I wanted to try the prawns (langostillo) and not everyone had them. I ate langostillo al ajillo and yuca con mojo at one place and battered corvina and patacones rellenos con ceviche at another. The prices range from about $10-14 USD