9 Favorite Places to eat on Isla Mujeres, Mexico
There's nothing better than being caressed by a warm ocean breeze while enjoying delicious, fresh food and sipping your favorite cocktail. At least I can't think of anything! Isla Mujeres, Mexico is home to many great local restaurants and bars that showcase Mexican cuisine. From restaurants featuring Caribbean and Mexican fare to cafes that offer innovative fusion dishes there are a number of great restaurants on Isla Mujeres. Here's my pick of the top 9 best local restaurants on Isla Mujeres, Mexico.
1. green Verde
Green Verde is a great breakfast spot, that is also open for lunch and dinner (most days), and situated conveniently mid island, away from the hustle and bustle of downtown. Try the chilaquiles and fresh juice to start your day in this beautiful patio setting. Ceviche is always a good choice! Plus you can pet their cute dog (it's still a puppy so watch out for playful nips) and watch the turtles in the small pool.
2. Mercado Municipal
This local market in the centro is a great place to get breakfast, and to pick up a few things for your day. I always grab a fresh verde juice (made with pineapple, chaya, nopal and a few other ingredients) which goes perfectly with a salbute, a fried tortilla loaded with meat and veggies on top.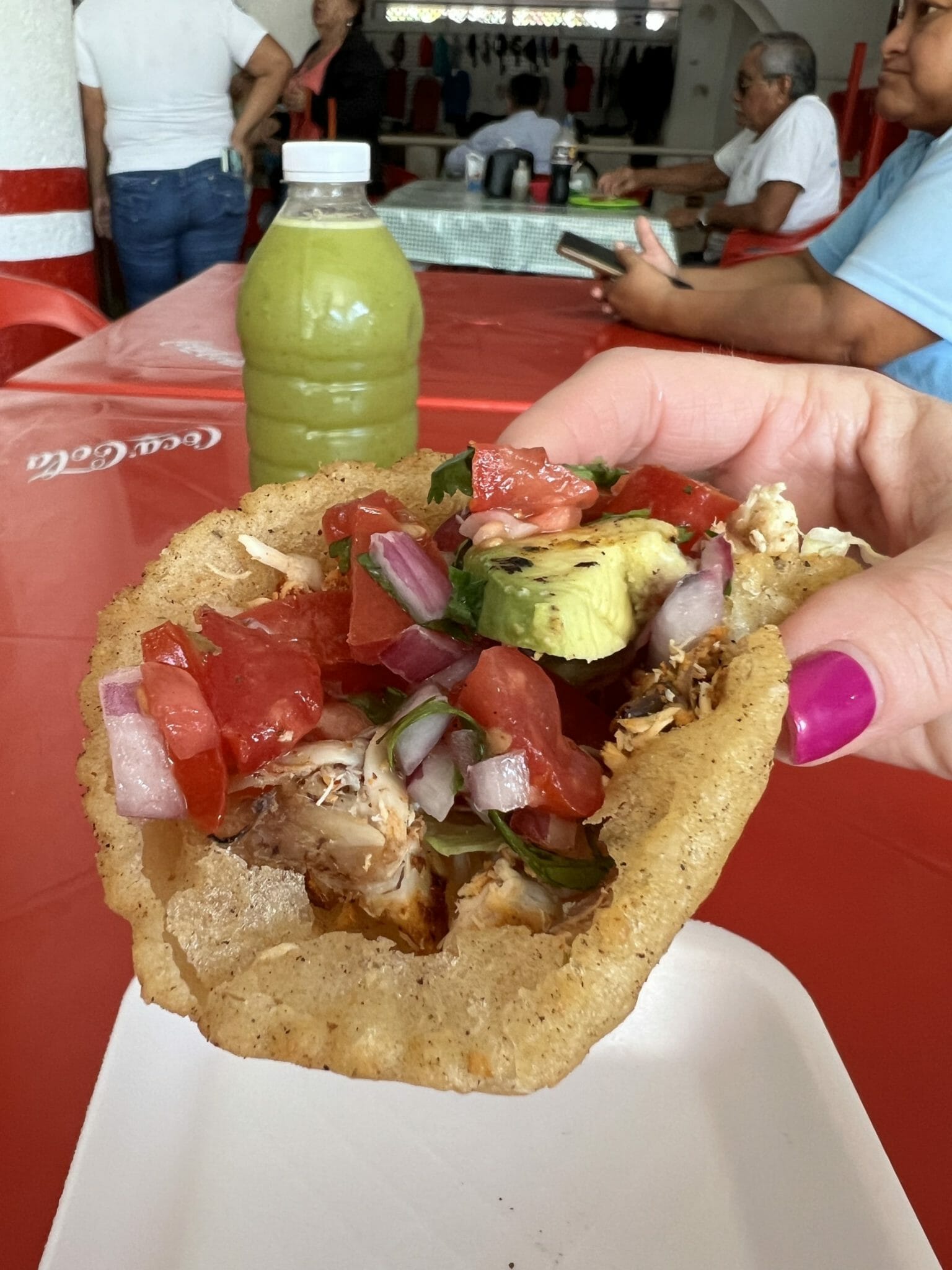 3. Loncheria Alexia y Geovanny
This cafeteria style restaurant directly across from the municipal market is open daily 8-3:30 (except Monday) and has several eateries in one spot. Choose from a number of local and regional cuisines, such as seafood, or Yucatecan specialties like poc chuc and enjoy their shaded but outdoor seating. This is a local spot and you will see many local families enjoying the food alongside tourists. The price is right and the food is great!
4. Mayan Beach Club
Mayan Beach Club is by far my favorite beach restaurant on Isla Mujeres. The menu is from Chef Arturo Lopez, a talented and award winning chef from Mexico City. You can find everything from delicious ceviche presented in a conch shell, to fresh fish and coconut shrimp. Try shrimp satay or tomahawk steak. Innovative dishes such as cochinita eggrolls push culinary creativity with the backdrop of one of the most beautiful beaches in the world. The presentation of the dishes is everything. The cocktails are also incredible.
5. Madera Food and Art
This little boutique restaurant on the Caribbean road offers incredibly fresh salads, burgers and rice bowls. The lettuce is crisp, green, the fish ultra fresh and the beef ground fresh each day. Nick, the owner, hails from Minnesota and fills this gorgeous spot with local art and the freshest food. For a taste of home, try the Jucy Lucy burger on homemade brioche roll or the poke bowl with tuna for a light meal. The cocktails are delicious and served with reusable straws. Find beautiful island art for purchase.
6. Chile y Maiz
This delicious restaurant in La Gloria features great food such as sopes, tacos and more in their upstairs dining room. The large palapa roof and the red decor bring in a feeling of warmth and tropics. Exceptional food, delicious drinks! Don't miss this spot. I love the sopes with the delicious chile oil.
7. La Trocka
This incredible corner taqueria in la Gloria has some of my favorite tacos! A super cute and colorful food truck with tables and chairs in the covered outside dining area make this casual spot the perfect stop as you cruise around the island. Try the tierra y mar tacos with delicious steak, perfectly juicy shrimp and guacamole. The homemade salsas are the perfect compliment. Try the chilemole – a simple grilled onion and tomato mix.
This staple bar on Hildalgo street is the perfect stop on your evening bar crawl. They specialize in Mezcal and their cocktails are top notch. Try their queso fundido or Mayan and Veracruz style chicken, fish and pork, fajitas and more. They have burgers as well if that's your craving. This lively soot gets busy at night, and there's usually live music or a DJ.
9. El Varadero
El Varadero has the best Cuban food on the island. Try the ropa vieja, the super fresh ceviche or the whole fried snapper. Live salsa music on Sundays! This is a great place to hang out and watch the boats in the lagoon, while you sip a mojito. It's located a bit off the beaten path at C. 16 de Septiembre Supermanzana 003.
Want to experience more of what Isla Mujeres has to offer? Join me on our Culinary Vacation to the Yucatán!